Our Team
Membership Representatives: Kim Beavers & Janet Cambra
EnviroVoters Fellows: Jaelynn Douglas & Santiago Rodriguez
Matt Abularach-Macias
Matt Abularach-Macias is EnviroVoters' Campaigns and Organizing Manager. Originally focused in San Bernardino and Riverside, Matt has expanded to also work on our statewide organizing efforts. In this role, Matt has been able to build partnerships and amplify community concerns about the impacts of climate change, the local benefits from investments in clean energy, and the critical need to conserve and protect our environment. Outside of EnviroVoters, he chairs the Board of the Inland Region Equality Network an Inland Empire based LGBTQ Advocacy & Education Org. His work with EnviroVoters(EF) and IREN is an extension of his previous organizing on educational access, LGBT rights, and anti-racism issues. He got his start in the professional organizing and political world as a regional field director on the successful campaign to elect Pete Aguilar to US Congress. Prior, Matt graduated from UCLA with a degree in Chicana/o Studies. Contact Matt at:
[email protected]
Veda Banerjee
Veda Banerjee is EnviroVoters' Communications Director. She manages overall communications and marketing strategy, thought leadership, press relations, and digital marketing at EnviroVoters that impact bold climate policy. She has extensive experience in corporate communications, public-private partnerships, online marketing, and the ability to forge productive relationships with diverse stakeholders and build community. Prior to joining EnviroVoters, she worked at San Francisco Goodwill and the Golden Gate National Parks Conservancy managing media, digital marketing, and social media strategy. She has a graduate degree in journalism, public relations, and marketing, and been an invited speaker at SXSW, NTEN (Nonprofit Technology), and PR News Big 4 conferences. Contact Veda at
[email protected]
Resa Barillas
Resa EnviroVoters' Inland Empire Regional Organizer. Resa is a former digital marketer, graphic designer, and musician. When she moved to the High Desert, she found herself in a community whose voice was unheard and saw a need for change. She utilized her mixed background and experience in organizational leadership to advocate & organize around youth issues, health equity, and environmental justice. She is a proud queer woman and a first-generation Salvadoran-American living in the city of Adelanto with her son, Cameron, and their 2 kittens, Stevie & Jett. She enjoys working on DIY & home improvement projects, audiobooks on long drives, family movie night, and playing Dungeons & Dragons with friends. Contact Resa at:
[email protected]
Akira Brathwaite
Akira is EnviroVoters' Major Gifts Officer, working to connect our wonderful donors with our ground-breaking work. Deeply committed to sustainability, Akira has dedicated her career to the environmental movement, from building out the membership program at Rainforest Action Network, to helping rehabilitate endangered species with Orangutan Foundation International, to hitting the pavement with Greenpeace USA. Having graduated from Humboldt State University with studies in ecological restoration, environmental policy & planning, and sustainable economics, Akira has a strong understanding of the intersectionality of the issues we face and the urgency with which we must face them. When not sharing this passion with supporters, you can find Akira hiking through forests, baking ridiculous confections, reading sci-fi/fantasy, or cuddling with her cats. Contact Akira at:
[email protected]
Tammy Chan
Tammy Chan is EnviroVoters' Finance Director. She has a multidisciplinary background, including over 13+ years in Finance and Informational Technology. Her passion is in making a difference by building out the operational foundation, business processes and systems for nonprofits to grow and become financially sustainable. She transitioned from the private sector and co-founded a nonprofit, Conversations for Good, that provides opportunities for ordinary people to help students and job seekers to share about their careers and provide mentorship. She holds a bachelor of science degree in Management Science from the University of California, San Diego. In her spare time, she enjoys traveling, scuba diving, and volunteering. Contact Tammy at:
[email protected]
Mary Creasman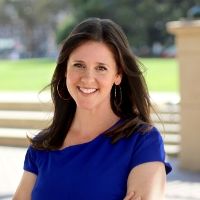 Mary Creasman is California Environmental Voters's (EnviroVoters) Chief Executive Officer. Since taking over EnviroVoters in 2018, Mary has focused the organization on building power to solve the climate crisis, advancing climate justice, and creating the global roadmap for action. Under her leadership, EnviroVoters has more than doubled in size, launching three new local league PAC entities to expand organizing efforts in battleground regions across the state. During the 2020 election cycle, EnviroVoters PAC entities and partners stopped Big Oil's top three candidates from advancing in the primary election and unseated two anti-environmental state senators in the general election. In addition, EnviroVoters led efforts in 2020 to expand mail ballots to every voter, protect in-person and drop box polling options, and lower the voting age. While passing numerous climate policies statewide, EnviroVoters led an accountability effort to oust a pro-oil and gas Assembly Transportation Chair and ensured California's congressional delegation delivered a historic win federally by securing permanent conservation funding through the Great American Outdoors Act. Prior to EnviroVoters, Mary served as the California Director of Government Affairs for The Trust for Public Land where she led the effort to pass the largest parks tax measure in the nation, spearheaded the state's biggest single investment in underserved communities in California's history, and created an urban greening program marking the first time green infrastructure was included in California's climate policy. Mary has a long and successful track record of leading campaigns and initiatives at regional, statewide, and national levels as the Chief Strategy Officer of Green For All, the Associate Director of the Partnership for Children & Youth, and the Political and Organizing Director of the AFL-CIO Labor Council in Silicon Valley. She has advised organizations across the country as an organizational development and effectiveness consultant. Mary has been featured in the Los Angeles Times, The Hill, Politico, the Sacramento Bee, San Francisco Chronicle, and more.
Andrew Escamilla
Andrew Escamilla is EnviroVoters' Regional Organizer. Andrew supports EnviroVoters' Organizing work in Fresno and other parts of the Central Valley. Originally focused on building equity and organizing students and families in California K-12 schools, Andrew will continue to Organize marginalized communities, ensuring their voices are centered and uplifted in the climate crisis movement. Andrew in his role as the Regional Organizer will help shape the public narrative, educate lawmakers, cultivate environmental and environmental justice leaders, drive policy change, and expand regional partnerships and action in the Central Valley. He graduated from Fresno State University with an M.A. in Education with the option in Higher Education Leadership. He is passionate about higher education access and equity for all, making sure front line communities are at the forefront of solutions when it comes to climate change, and the solutions put forth. When not working, you can find him enjoying the outdoors, family time, supporting his partner Mayra, and enjoying their little pupper, Appa. Contact Andrew at:
[email protected]
Shanil Jiwani
Shanil Jiwani is EnviroVoters' Senior Philanthropy Officer. Prior to joining EnviroVoters, Shanil worked for the Democratic Governors Association, where he cultivated the organization's fundraising and new donor programs while raising millions of dollars during the 2020 election cycle. Shanil's political fundraising experience stems from his work with Hillary for America, Center for American Progress, and the GW Annual Giving Program. In addition, Shanil volunteered to organize Muslim and Asian American & Pacific Islander voters with Ismailis Rise Up and Texas AAPIs for Biden. Shanil graduated from The George Washington University with a BA in Political Communication and a minor in Sociology. Contact Shanil at:
[email protected]